Unlocking Space and Style: 6 Key Advantages of Incorporating a Murphy Bed into Your Home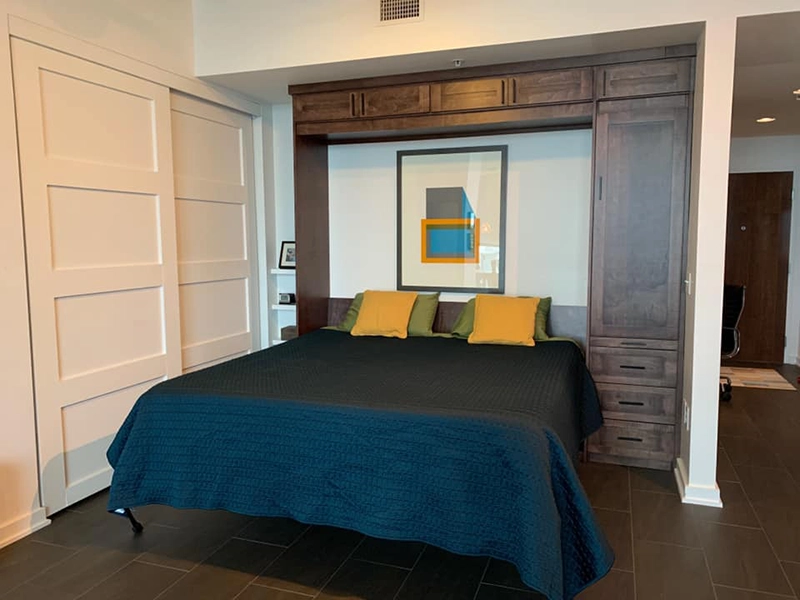 ---
In our fast-paced world, maximizing living space is a top priority for homeowners. With the growing need to optimize living spaces, innovative solutions have become essential. One such solution that has been gaining traction in recent years is the Murphy bed. Also referred to as a wall bed or pull-down bed, a Murphy bed is a versatile piece of furniture that can transform your living space in numerous ways. In this article, we will explore six compelling benefits of integrating a Murphy bed into your home.
1. Space Efficiency: Unlock Your Space
The most evident and arguably the most significant advantage of a Murphy bed is its space-saving design. Traditional beds can occupy a substantial portion of a room, leaving little room for other furnishings or activities. Murphy beds, on the other hand, neatly fold away into a wall cabinet or recess, enabling you to recover precious floor space. This additional space can be utilized for various purposes, such as a home office, a playroom, or even a compact gym. The space efficiency of a Murphy bed is particularly valuable in small apartments and homes where every square foot is crucial.
2. Versatility and Multi-Functionality: Tailor to Your Style
Murphy beds are the epitome of versatility. They come in a wide range of styles and designs, allowing you to select one that harmonizes with your existing decor. Whether you prefer a classic, modern, or rustic look, there's a Murphy bed to suit your taste. Furthermore, these beds can be customized with built-in shelving, cabinets, and even a fold-down desk, creating a multifunctional wall unit. This means you can have a comfortable sleeping area by night and a functional living space by day, all within the same room. It's like having a bedroom and an office rolled into one!
3. Guest-Ready Convenience: Elevate Your Hosting Game
For those with limited guest accommodations, a Murphy bed can be a game-changer. When you have friends or family staying over, simply fold down the bed, and your guest room is ready within seconds. Once they leave, you can tuck the bed away, transforming the space back into your daily living area. This guest-ready convenience is an excellent solution for those who entertain guests frequently but lack a dedicated spare bedroom.
4. Improved Home Value: Elevate Your Property
Investing in a Murphy bed can also boost the value of your home. Prospective buyers often seek distinguishing features that make a property stand out, and a Murphy bed is a unique selling point. It shows that your home is not just functional but also adaptable to various lifestyles. Even if you have no intention of selling your home, the enhanced functionality and aesthetics can make your living space more enjoyable and valuable to you.
5. Easier Cleaning and Maintenance: Effortless Living
Traditional beds, with their hefty mattresses and frames, can be a hassle to move and clean under. In contrast, Murphy beds simplify the cleaning and maintenance of your living space. Since the bed folds up against the wall, you can easily access and clean the floor beneath. This not only makes the room look tidier but also ensures a cleaner and healthier living environment. Additionally, Murphy beds are designed with high-quality materials and mechanisms, so they are built to last and require minimal maintenance over time.
6. Enhanced Comfort and Quality Sleep: Sweet Dreams Await
A common misconception about Murphy beds is that they sacrifice comfort for space-saving benefits. However, modern Murphy beds are designed with comfort in mind. They come with high-quality mattresses that provide the same level of comfort as traditional beds. This ensures that you and your guests can enjoy a restful night's sleep, free from discomfort or backaches. The convenience of a Murphy bed, paired with a comfortable mattress, can significantly enhance your overall quality of sleep.
In conclusion, a Murphy bed is a versatile and practical addition to any home, offering a multitude of benefits. From maximizing space and style to accommodating guests with ease, these beds have evolved beyond their humble beginnings. They are now a stylish and functional solution for those looking to make the most of their living space.
So, if you're seeking to create a more versatile and efficient living environment, consider integrating a Murphy bed into your home. It's an investment that not only optimizes your space but also adds value to your property. Moreover, the convenience, flexibility, and comfort they offer make Murphy beds a top choice for modern homeowners who want to make the most of their living spaces. Don't compromise on style or functionality; choose a Murphy bed to revolutionize your home today.